Spare Parts and Maintenance
Easy-to-use & low-maintenance back pressure regulators
Equilibar® back pressure regulators typically are low maintenance. The elegant design of an Equilibar dome loaded back pressure control valve consists of a flow body, a cap, two O-rings and a diaphragm. The diaphragm is the only moving part in the construction of the Equilibar regulator. Diaphragms and O-rings are available in a wide variety of materials. Based upon your process parameters, Pressure Control Solutions guides you in selecting the right materials for your application. Selecting the right materials for your process parameters is key for optimal performance of your regulator. It also helps to keep maintenance needs to a minimum.
Material selection for your back pressure regulator
Common O-rings materials include:

Viton® (FKM) – has reasonable chemical resistance and can be applied up to 200 °C.
Kalrez® (FFKM) – can be applied under certain more severe conditions, such as high temperatures or aggressive media;
Kalrez is more chemically resistant and can be used up to 300 °C.
Evolast® (FFKM) – for temperatures ranging from -15 °C up to +340 °C; designed specifically for the chemical process industry and thus resistant to aggressive chemicals, yet less suitable for steam applications and processing amines at high temperatures. Read more about Evolast FFKM in this datasheet.

Common diaphragms materials include:

PTFE Glass: This diaphragm is made out of glass-reinforced PTFE and carries the abbreviation Gxx in the model key of your instrument. It is one of the most favored diaphragm materials because it can handle high pressures (up to 200 bar), high temperatures (up to 175 °C) and is chemically resistant in most applications.
PEEK: This diaphragm is made of the polymer polyether ether ketone and carries the abbreviation Kxx in the model key of your instrument. This material can handle pressures up to 700 bar, but has a high temperature-rating. It is known to have a high resistance to a wide range of chemicals.
KAPTON: This diaphragm is made of a polyimide polymer and carries the abbreviation Lxx in the model key of your instrument. This material is used for high-temperature applications. It is strong and can handle high pressures (up to 200 bar) as well as very high temperatures (up to 300°C). Chemical resistance is slightly lower than the aforementioned diaphragms due to the fact that it can't handle hot water or steam and is sensitive to high and low pH values.
PTFE: This diaphragm is made of polytetrafluoroethylene and carries the abbreviation Fxx in the model key of your instrument. PTFE is known to be chemically inert and can be applied as a wetted contact for many aggressive media. When applied under high temperature, PTFE can lose its strength. Instead, glass reinforced PTFE can be applied. Glass reinforced PTFE is applied when dealing with high pressure and high temperature.
Please use our Request a quotation form or contact us if you want to know more about appropriate material selection for your application and process conditions. This video demonstrates different available materials.
Maintenance is all self-service
Most users can perform any maintenance needed by themselves. This contributes to both time and cost savings in your operation!
To improve product performance and to prolong the life cycle of your diaphragms, we recommend the following:
Include a filter in your application to avoid pollution from getting into the back pressure regulator.
Inspect the diaphragm regularly for integrity, in particular when your process is characterized by any substantial or regular pulsing or in case of extreme process conditions.
After inspection, clean your back pressure regulator before reassembly.
This blog and video show you how easy it is to rebuild the regulator after disassembly and cleaning. Assembly instructions can be found in the Installation & Maintenance documentation that was provided with your shipment. You can also view the relevant product pages on this website for more details.  
Maintenance frequency and diaphragm lifetime
Each Equilibar back pressure valve contains only 5 parts that are held together by 6 or 8 bolts, with the diaphragm being the only moving part.
The expected lifetime of a diaphragm generally depends on a mix of factors:
Pollution
Wear
Deformation
Thermal degradation
Metal fatigue
From experience, we know that the use of spare parts can be kept to a minimum, especially when your product is configured based on the appropriate selection of materials and correct sizes.
Nevertheless, we advise to (i) always keep some replacement parts in stock to minimize downtime in your process; and (ii) order spare parts ahead when you plan maintenance.
Annual Inspection for Minimal Downtime
As explained above, the service life and maintenance interval of Equilibar back pressure regulators depends on the circumstances of your application (process media, operating temperature, differential pressure, phase change, etc.). Diaphragm exposure to solids will significantly reduce diaphragm lifetime depending on the quantity, size, and shape of particles. As a minimum, we recommend an annual inspection of the diaphragm and seals of the regulator. We further recommend replacing the diaphragm and O-rings with each inspection. For common materials and sizes, we try to keep lead times as short as possible. However, if the avoidance of downtime is important for your application, we advise you to keep on stock at least 1 spare part kit per regulator.
For your convenience, we have an easy-to-use spare parts request form that uses the model key of your regulator for easy ordering.
The following spare part kits are available to order:
RBK – Rebuild Kits: alternative O-rings AND diaphragms deviating from the regulator's model key
SPK – Spare Part Kits: replacement O-rings AND diaphragms in accordance with the regulator's model key
DI – Diaphragm Kit: replacement diaphragms only
OR – O-ring Kit: replacement O-rings only
Tooling, inserts, and bolts
Short Lead Times for most Spare Parts Orders
We have many material options in stock and can often supply spare parts to you within a delivery time of 1 to 2 days. Contact us by phone if you have an urgent need for spare parts, and we will see what we can do to speed up delivery.
Diaphragms and O-rings are in stock for the following models:
Components of an Equilibar ®
pressure regulator: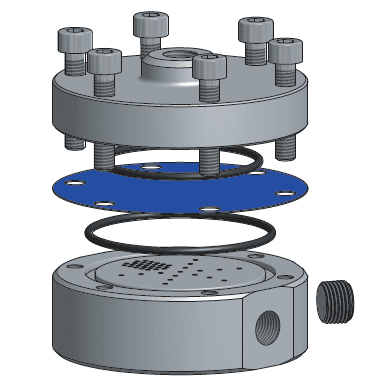 Diaphragm:
Thickness & material are always subject to your process parameters
Pipe plugs (not in all models)
Rebuild instruction videos:
The Ultra Low Flow (UxL) back pressure regulator has a different design, so the rebuild instructions include an additional step. The video below demonstrates how to replace a "removable insert" in a UxL back pressure regulator.
The ZF back pressure regulator again has a slightly different design with additional steps and the video below demonstrates how to rebuild this particular pressure regulator.